Women are 51% of the population
If women aren't well represented – at every level, in your business you're missing out on our insights into the market.
Are you a business who wants to increase your productivity, reach ALL your customers and ultimately improve your bottom line by having a more representative workforce?
Are you seriously concerned about the shrinking workforce in the construction and maintenance sector and keen to attract 'new blood' at the same time as making your business more attractive to highly committed recruits?
Are you worried your business is 'stuck in the past' and want to find a way of bringing it into the 21st Century? Are you committed to improving the roles of the women in your company but not sure how to begin?
Let's face it…
Construction and maintenance don't have a good reputation in the wider world.
It's time to change their face.
We'd argue that the most effective strategy to achieve that is to make the industry more representative of the whole population.
We believe that making construction and housing more attractive to women will make it more attractive to everyone.
Stopcocks Women Plumbers have years of experience attracting and retaining women into domestic construction and maintenance. It's a sector where women represent only 1% of the workforce although at least 23% of women (out of 2000 polled) have stated they would have 'seriously considered' the sector if it had been presented as an option to them.
Through our community and network we have the direct testimony of around 100 women working and wishing to work as heating engineers, plumbers and in other trades.
They've told us directly what they need to be attracted into the sector and to stay.
We know what they're looking for.
Working collaboratively with you and our partners The Connectives we'll help you to transform your business culture, increase productivity and improve performance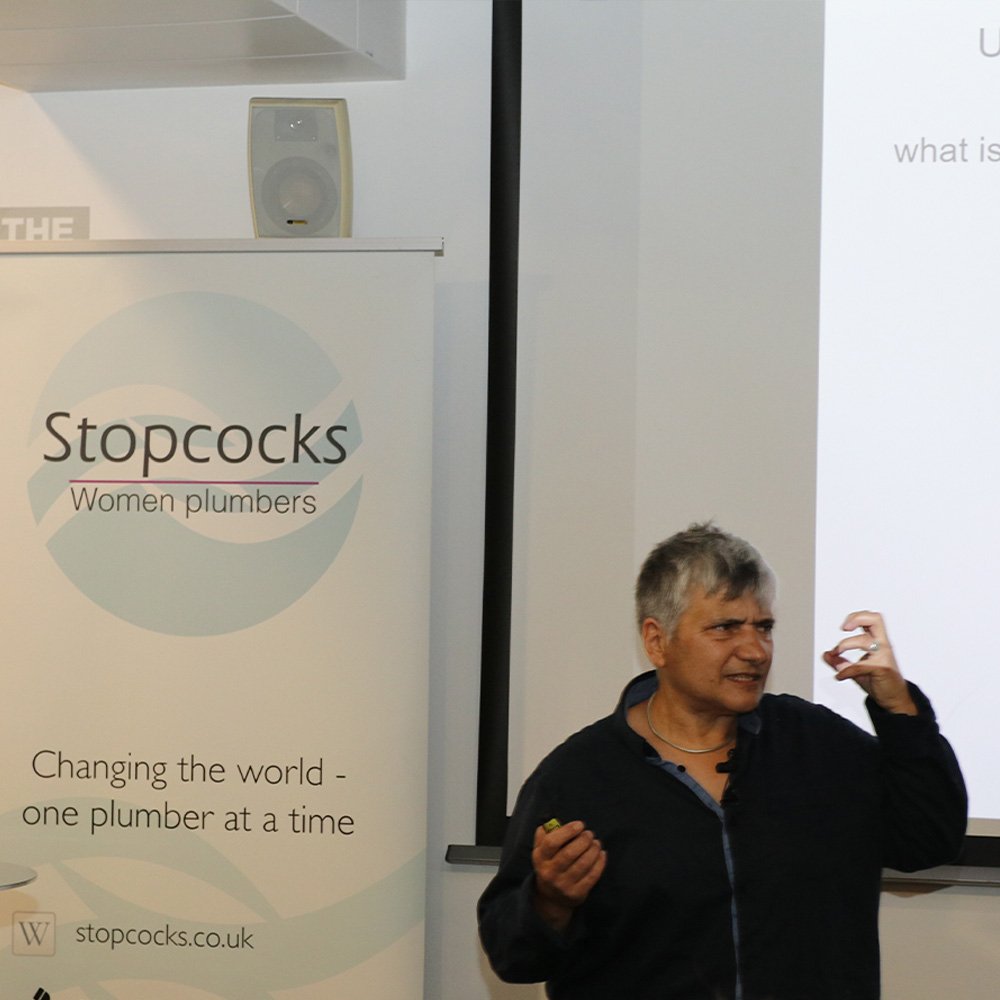 Housing Associations
__________
We can help you achieve a greater social impact by working with you to train female tenants as Stopcocks Taps, Traps and Toilet Drs. enabling you to provide a female workforce.
They become capable of earning as self-employed TTT Drs or as your employees and at the same time, you meet the needs of some of your most vulnerable tenants.
Contact us for more information and to discuss our tailor-made training and support services.
Construction and Maintenance Services
__________
The average age of UK plumbers is 57 and only 5.9% of plumbers are aged 35 or younger. The skills gap is not just here, it's going to get worse.
But, there is hope…
A Watersafe study showed that 23% of women would have 'seriously considered' a career in trades if they'd been 'given the opportunity' whereas a YouGov survey showed that only 11% of the general population asked 'would consider' a career in trades.
We've spoken to tradeswomen in focus groups to identify what attracts them to join our industry, and vitally, will encourage them to stay once they get here.
This isn't just about attracting women into the industry. We believe that the changes required to attract women will make the industry more attractive to everyone.
We're talking about a cultural transformation that will change the face and the reputation of our entire industry – you can benefit from our insider knowledge.
Are you ready to join us and lead the way?
Contact us to find out more