Media & Stopcocks Press Kit
Media interviews and opinion
Stopcocks founder Hattie Hasan MBE is always the first port of call whenever anyone wants to know what's going on with women in plumbing and heating, in fact she was awarded an MBE in the 2020 New Year's Honours list for her services to women in the industry. Watch her interview with London Live TV here.
Our founder, Hattie Hasan, featured on The One Show in August 2019. Watch the video below.
Hattie also appeared on Woman's Hour on the Women in Construction special aired on 26th August 2019. You can listen to that here.
We had a veritable flurry of radio 'appearances'; early 2019 Hattie featured in The Conversation on the BBC World Service talking to New York woman plumber Judaline Cassidy, listen here.
Closely followed by Talk Radio's Badass Women's Hour listen here.
And in discussion with some young women training in non-traditional jobs on BBC Radio Solent,
Turkish-Cypriot Hattie has also featured frequently in the highest readership newspaper in Northern Cyprus, Cyprus Today. Read the article here.
Interview on Fix Radio London – Listen here.
Interview on BBC Radio Leeds – Listen here.
"The Women Plumbers Changing The Trade" from The Conversation by BBC World Service. Released: 2018. Genre: Podcast. – Listen here.
"Women in Construction" from Woman's Hour by BBC Radio 4. Released: 2019. Genre: Podcast. – Listen here.
 Hattie speaking to London Live about receiving an MBE:
Interviews
Hattie and our plumbers are frequently contacted for photographs, to appear in image libraries and for opinions. Please contact us about this, but also bear in mind, that as self-employed people our plumbers actually lose money if they attend your event or give you their time. We therefore ask for expenses at a minimum and a fee for anyone frequently called on. Hattie Hasan MBE has her own speaker's website coming soon. In the meantime please contact us for her rate card.
We're always happy to collaborate with companies we are aligned with; see this short video produced by Nominet who own dot uk.
Talking about a purpose led business to Jen Andersson, Hattie tells about the rainwater harvesting project she completed at an AIDS orphanage in Kenya here.
More podcasts, videos and interviews can be found below.
For a feature on 'Working Lives' in The Times, Hattie was asked to comment on the prospects of women joining the industry. Obviously she was able to report that prospects were good and the drip of change is steadily turning into a stream.
Spearheading the, now annual, Women Installers Together Conferences has brought media attention and national honours to Hattie and Stopcocks along with highlighting the situation for women in the plumbing industry. Stopcocks now feature regularly in PHPI, Registered Gas Engineer, HVP, PHAM and Installer magazines.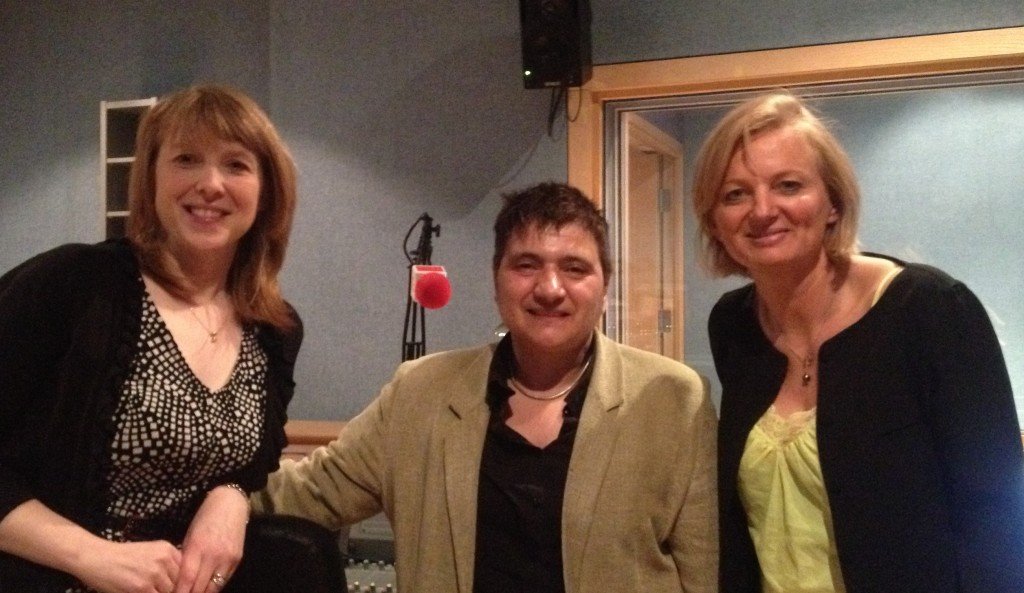 On March 20th 2014 we were invited to help spearhead a 'radio day' promoting Watersafe UK's campaign to Get Girls Plumbing. Hattie our founder along with Julie Spinks, MD of WRAS and consumer champion Alice Beer discussed the situation of women and girls as plumbers in the construction industry and strategies for increasing their numbers. Interviews include James Naughtie on BBC Radio Scotland and Clive Bull on LBC.
Click on links below to hear the full interviews.
Hattie's portrait appeared in an exhibition by Sue Spaull at The Strand Gallery in London from 2-8 June 2015. Called 'What Are You Looking At?' it features powerful women and questions our perceptions of women and portraiture. Hattie is in good company alongside Glenda Jackson, Baroness Helena Kennedy, UK's first Green Party MP Caroline Lucas; Wonderful astronomer and 'Sky at Night' Presenter; Dr Maggie Aderin-Pocock and BBC Woman's Hour presenter Jane Garvey.
We contributed to pieces as diverse as research commissioned by Confused.com on gender and Strictly Come Dancing – It Takes Two.
Additionally Hattie and Stopcocks Women Plumbers have been featured in magazines, newspapers and podcasts as well as TV and radio ranging from, Sky News, Real Lives to The Independent, BBC Radio 4's Woman's Hour to a global entrepreneurs magazine; Extraordinary Lives. Hattie speaks on her own story, women plumbers, the position of women in the construction industry, women in business, archetypes, the feminine approach to business, collaboration, customer service, girls, confidence and global water issues.
Contact us to book Hattie to speak at your event.
Blogs and Magazines
Auto Straddle (Jan '16) Hattie discusses following a passion to succeed
Jenny Andersson (Dec '15) Hattie talks about the recent trip to Kenya, and how purpose has kept her passion for all things plumbing alive
Standard Issue (Oct '15) Mica May talks about the difficulties women have faced from within the industry
List for Life (Oct '15) Discusses why plumbing is a great career choice for women
Womanthology (Sep '15) Discusses how Stopcocks Women Plumbers help women in the industry to set up in business and succeed as plumbers in the male dominated industry
Womanthology (Oct '14) Hattie talks about the mission to increase the numbers of women/girls entering and succeeding in the industry
Page 1 Woman (Jun '13) Interview with Executive Coach Claudia Crawley about changing the world, one plumber at a time as 'Woman of the Week'
honestmum.com, (Apr '13) Interview with blogger and film maker Vicki Psarias. Hattie talks about women, business and our trip to Kenya
Publications
Manager Magazine. Customer service is pivotal to our business (Aug 2012)
How to: Do your own plumbing. The Big Issue in the North. April 2011.
The Joy of Plumbing, Hattie Hasan. A Guide to Living the Life You Really, Really Want
Media Enquiries
We welcome enquiries from media outlets wishing to conduct interviews for television, radio and publication.
You can book Hattie Hasan MBE to speak at your event on a variety of subjects ranging from her own inspirational story to 'Understanding Unconscious Bias' to 'The Feminine Plumber' to 'Women are the Solution'
High Resolution Images
Photos are available below in both landscape and portrait formats.
To save images – click on the image to open a larger preview, then right click on the image and chose 'Save Image as' or 'save as'
FAQs
These are some of the questions we are most frequently asked about our business and about women in the plumbing/construction industry.
Contact us for more details or to arrange comment/interview mica@stopcocks.uk or call us on 07710 562089
What is Stopcocks?
Stopcocks is a national franchise of women plumbers (the only known one of its kind, in the world) with a mission to create successful female plumbing businesses all over the UK, and beyond.
What's the history of Stopcocks?
1990 – Stopcocks Woman Plumber was founded by Hattie Hasan because, despite her qualifications, aptitude and skills, she was unable to get a job as a plumber. Hattie's business was highly successful but she wanted to achieve something more.
2006 – Hattie created Stopcocks' first website. Immediately she started receiving emails from women who wanted to become plumbers and were finding many obstacles in their paths.
2010 – Because plumbing had been her route to a self-determined life, Hattie published The Joy of Plumbing; a guide to living the life you really Really want https://www.amazon.co.uk/d/Books/Joy-Plumbing-Guide-Living-Life-Really-Want/1907722092
2011 – Stopcocks Women Plumbers launched to help other women become plumbers and to enable customers to find a great woman plumber in their area.
2012 – 2016 – This period was spent helping women to become fully qualified as plumbers and building the Stopcocks' name.
2017 – Launch of Stopcocks Women Plumbers Franchise and first Women Installers Together conference
For information about WIT Conferences please go to Women Installers Together.
What gap in the market does Stopcocks Women Plumbers fill?
Based on what many of our customers tell us, we believe they are not receiving basic respect from tradespeople who visit their homes. Nobody likes great big dirty boots all over their carpet! Nor do we want tradespeople who patronise us, play loud music, thoughtlessly make themselves at home in our space, and make us feel uncomfortable or unsafe.
When you let a Stopcocks Woman Plumber or any tradeswoman from the Register of Tradeswomen CIC into your home you can rest assured that she will treat your property and your time with respect. She will listen to you, explain the problem and her solution clearly and answer your questions, without making assumptions or talking down to you.
Excellent customer service is an integral part of our service.
What do women bring to plumbing?
It's often said that women feel they have to be at least twice as good to be considered as able as their male counterparts. Women bring the same level of technical skill as men but they also bring something extra. In our (still culturally strong) training to become mothers, women are trained to look after people when they are stressed – and having plumbing work carried out in your home can be stressful. Women plumbers recognise the importance of paying attention to detail, carrying out work precisely and effective communication – so that customers understand what is being done and why.
When women become plumbers, in addition to their skills for motherhood, they add 'dad skills' to this – being strong, capable and solution focussed, and 'fixing stuff'.
So women plumbers bring a combination of Mother and Father archetypes into our home – in essence, they have all the traits of a superhero!
Women Installers Together Conferences are also addressing some of the industry issues around the 'skills gap'. We believe that making the industry attractive and welcoming to women will increase its attractiveness to everyone, making it more a aspirational industry to work in.
Are women strong enough to be plumbers?
Err yeah! Anyone who can carry a baby or toddler around while they also carrying shopping is definitely strong enough to be a plumber. And in addition, women learn to be problem solvers (possibly because they grow up being told they're not as strong as men) and to find practical ways round a situation, rather than relying on 'brawn'. Which means that a woman is less likely to 'put her back out' in your house trying to lift something heavy.
And when we're asked questions about whether women will 'mind' such a dirty job as plumbing – again we point to motherhood.
How many trained female plumbers are there in England and Wales?
Unfortunately, nobody currently gathers this data but the estimate is that one in every hundred plumbers is a woman. And that there are around 500 (out of 100,000) gas engineers.
One of the aims of the Register of Tradeswomen CIC is to count tradeswomen nationally and use the data to drive change in our industries.
How many women plumbers are there at Stopcocks Women Plumbers?
Stopcocks has enabled at least 30 women to qualify as plumbers since 2012. Many have gone on to jobs. Stopcocks Business Incubator Scheme never has more than 5 women on it to ensure a high quality of mentoring. The Register of Tradeswomen is available for householders to find skilled tradeswomen anywhere in UK.
What are the biggest challenges faced by women in the industry?
We know from what our customers tell us that they love female plumbers. They come back to us again and again and happily refer us to friends, family and colleagues. But plumbing is still seen as a 'male industry' and women who are interested in becoming plumbers often face a great deal of discouragement and discrimination. We've had men write to tell us that women just aren't suited for plumbing because they will cry if they break a nail! (and much worse than this!)
Finding training is difficult enough (information is all biased towards the need of male school leavers) and women and girls who succeed in finding places often experience discrimination and even bullying while they are learning. After this, many women find it exceptionally difficult to secure a placement (in order to fully qualify) in the business, because many male-led companies are reluctant to employ them or send them out to work with customers. Which is ironic really, given how many customers tell us that they'd love to have a woman plumber working in their home…
The difficulties women and girls experience gaining placements and apprenticeships is not only down to sexism. The vast majority of plumbing companies, especially those concentrating on domestic work, are very small and simply cannot 'absorb' trainees who are unable to contribute to the businesses income, even if there is someone working there with teaching skills. It's our opinion that this contributes to the inadequate numbers of qualified plumbers and also to the work practises being passed on to many new plumbers.
But there are also many practical issues which hinder women from getting a foothold in the industry. It is extremely difficult to get steel toe capped work boots and gloves in sizes small enough for many women (and these are a safety requirement for training and many manual jobs). There is even often a lack of adequate toilet facilities for women in the workplace and on building sites.
How can women join our Business Incubator?
We have pages that describe our process and requirements to join our Business Incubator Scheme, use the Become a Plumber button.
What are Stopcocks connections with Africa and Water Sustainability?
We've had a strong connection with the International Peace Initiatives (IPI) and Kithoka Amani Community children's Home (KACH) in Meru County, Kenya for many years.
In October 2015 Hattie Hasan, Stopcocks' founder, travelled to Meru County (all self-funded) and worked with members of the community in Kithoka, particularly several women. She collaborated with them to devise and create a rainwater harvesting system using cheap, easily available materials and simple, sustainable methods. This system now harvests 40,000 litres of rain a year, halving the cost of the homes' water bills.
Hattie maintains a connection with KACH and also IPI (which set up KACH) Stopcocks are now developing connections with Plumbers Without Borders, a global organisation which matches volunteer plumbers and water projects.
Stopcocks are collaborating with iFundi in Nairobi to improve the standards, training and reputation of plumbers.
For more details and to arrange comment or interview contact us mica@stopcocks.uk or call Mica on 07706 763883